combine your love of spreadsheeTs and knitting
LEARN-BUILD-GROW your way to a thriving tech editing business
Maybe you are a designer and you'd like to add a little bit of stable income whilst your design income grows or you'd like learn to get your patterns into better shape before the tech editor gets them. Maybe you want to transition from working full-time to being a stay-at-home mom, or from working a day job that you hate to doing something you love. Or maybe you're thinking about retiring but you still want to work a little bit during hours that you choose.
TECH EDITING GIVES YOU A WAY TO TURN YOUR PASSION INTO A CAREER
But how do you become a tech editor? You could go through a lot of trial-and-error, take classes that teach you some things but not others, and try to convince designers to hire you. With a lot of time and a lot of patience that path can totally work. But there's got to be a better way, right?
I got serious about tech editing shortly after my first son was born back in 2009. I was a stay-at-home-mom trying to find a way to earn a bit of income without spending money on childcare. In the early days, the only free time I had was when he was napping but by the time he was 11 months old I had built up my business into a real source of income. But I knew that I could have gotten off to much better start if I had been able to get help understanding what was expected of me and how to do the best possible job for my clients. So, in March 2013, I decided to create that resource for others and launched my first course. Since then I've taught hundreds of knitters to become tech editors and seen them grow and blossom and make new careers for themselves.
So what makes my program so special? Well when you go through the Learn-Build-Grow Program, you can become a tech editor that designers trust in just a couple months. Whether you're staying home with your kids or you want to start your own empire, this program will get you there.
I will teach you the skills you need to start out as a tech editor, give you the knowledge you need to lay down your business foundation and teach you how to get your first clients. After just a few months, you will be able to start earning money from something you are really enthusiastic about.
with this program, you can learn the skills and tools that you need to create a new career path for yourself.
The Learn-Build-Grow program consists of three courses. Each course comes with a mixture of written and video lessons plus assignments/worksheets to go along with each lesson.
1. Learn To Tech Edit:
This course takes you step-by-step through everything you need to know to become a tech editor. In addition to the lesson, it includes 8 patterns — accessories and garments — for you to practice your skills on. You will learn:
The expectations of a tech editor

How to use style sheets

How to do to basic number checks

How to check charts

How to check socks & short rows

How to check garments
2. Build a Tech Editing Business
This course guides you through setting up the foundations of your tech editing business. You will:
Figure out what makes you stand out from all the other tech editors out there.

Create an image of your ideal client so you can create a marketing message that makes them know "yes, this is the tech editor for me."

Learn the importance of having a website and blog, as well as a couple of easy options for creating your site.

Learn the systems and tools you need to set-up so you can get paid.

Learn about newsletters, why you should have one, and what content you might put in it.

Create guidelines for customer care to make sure every interaction with a client is as positive as possible.
3. Grow Your Client Base
You've learned to tech edit, you've got the skills you need, now you need clients. This course takes you through all the information you to start getting hired. You will:
Learn which social media platforms work best for tech editors.

Discover my exact strategies for each platform and how you can implement them in just 5-10 minutes a day.

Create a plan for how to establish yourself as an expert in the field.
I'm a knitter, tech editor, mum to two boys, course creator, biz coach, and lover of sports documentaries. I started knitting when I was a child and basically never stopped. I was a super nerdy child; head always in a book and in love with space, maths, and science. After a brief stint at MIT, I ended up at the University of Liverpool and earned a BSc in Mathematics with Education (I also published my first design while I was there.) Shortly after graduating in 2008, being unsure what to do next, I discovered the world of test knitting and tech editing. I went on to work with magazines, yarn companies, a book publisher, and hundreds of designers. I've created courses, ran knitting retreats, demonstrated HiyaHiya needles on live TV, and vended at shows. I've been lucky enough to teach hundreds of knitters to become tech editors and watch as they go on to build thriving tech editing careers of their own. It's been amazing and I'm so grateful for the crazy turn of events that lead me here.
FAQ:
When does the course start?
The course begins as soon as you purchase.
I don't have the time to fit this in right now.
I totally get that. For some people this is 100% true and for those people I say just wait and buy the program when you have more free time. For other people this an excuse (usually being made because there is an underlying fear of failure) and for those people the timing will never be right. If lack of time is an excuse you've been using, then maybe you just need to take a risk and jump in. Don't let fear hold you back.
Do you offer a guarantee?
Yes! You have a week to try out the Learn-Build-Grow program and if you're not happy you can email me and get a full refund.
I don't really have a lot of knitting knowledge, can I still be a tech editor?
If you can understand a knitting pattern then you can become a TE. Will you be a tech editor that edits complex garments constructions? Probably not, or not at first anyway. But that's okay. I know editors who only want to work on garment patterns. I also know editors who only want to work on knitted toy patterns and simple accessories. As long as there are people designing the types of patterns you love to knit (which usually becomes the patterns you love to edit) then there is a spot for you as a tech editor.
I only crochet, is this program for me?
Yes and no. All the assignments are based on knitting patterns so you might struggle with that. But the ideas and theory, especially those about building a business and getting clients, are sound and applicable to crochet.
I have a degree in [insert your relevant field here], can't I just start tech editing and learn as I go?
Of course you can! I took my degree in mathematics and built my career upon that. I firmly believe it is our natural skills (comfortable with numbers, eye for detail, perfectionism) that make us great editors and not a specific knowledge set. But sometimes we need encouragement and support when we learn a new skill. We want to learn from someone who's been there before and be sure we are doing it right and going in with our best foot forward. That's what this program is for.
Is there really room for more tech editors?
Yes there is! There are constantly new designers coming on to the scene and there are constantly tech editors leaving it for one reason or another. I'm confident we haven't reached saturation point yet. :)
I'm a designer and want to improve my pattern writing skills but I'm not sure this is the program for me.
Many designers have taken this course and told me that the course improved their awareness of clarity and error finding. They also liked learning what is good to leave in and what can be taken out/edited. In short, it helps them be better clients for their tech editors, which is always a good thing. Here's what Jean has to say:
(The Next Steps course she's referring to is an older version of the Learn module. It was originally in two parts — Learn To Tech Edit and Learn to Tech Edit: The Next Steps — and then got combined into one version)
I'm too old -- isn't this a young person's game?
No way! We have students of all ages and they've all been able to work through the course material and find success.
What if I suck at marketing? What if I don't ever find clients?
This is a common worry. If you've never had to do any marketing before, or maybe just never had to do it for yourself, it's easy to think that you can't do it. It's easy to feel like it's something that other people are good at but not you. That's why I created the Grow Your Client Base course. Here's what one of my students had to say: "When I started tech editing, I was crippled by my genuine and almost allergic dislike of social media. I had to get over it, and this community and Joeli's marketing class helped a lot." This student is absolutely killing it in terms of getting clients and I know is at the point where she is turning away work.
I've bought a previous version of the course and would like to upgrade to the Learn-Build-Grow Program.
Not a problem! Send me a message and we can sort that out for you.
What are people saying about this program?
"While you can figure out how to be a tech editor on your own, there are benefits to learning from someone with experience. I've worked with Joeli as a tech editor in the past. When hiring tech editors now, I know they are serious when they have taken Joeli's class -- it's a real badge for rising tech editors."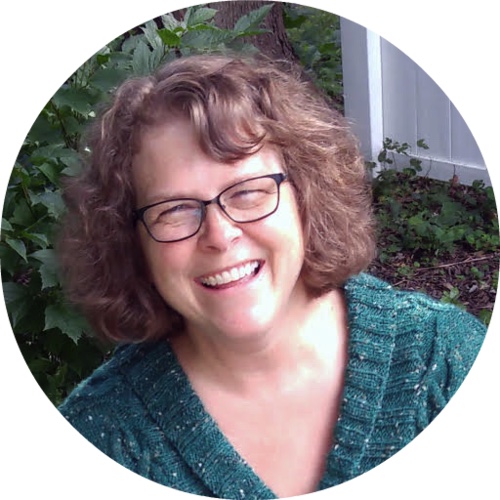 Lisa Beth Houchins, Tech Editor
"Joeli's courses helped me figure out that a tech editing career would be a really good fit for me, plus they gave me a solid background in tech editing knitting patterns and the practice and confidence I needed to get started. One year after completing the courses, I've tech edited almost 100 patterns for dozens of designers, many of whom have become my regular clients. I love it that I've found a dream job that combines knitting, math, and working with people."
Sarah Inskeep, tech editor & Designer
"I had been a little concerned at first about coming across as a bossy know-it-all, or that my comments might make designers feel I was attacking their work. Joeli not only teaches but demonstrates how to interact with designers professionally in a way that communicates respect but is also helpful and accurate. I found that both exciting and reassuring!
After completing the course, I feel that I have options and an opportunity to start making my dream of running my own business in the knitting industry come alive!"
Tricia Gilbert, Tech Editor
"The courses I've done with Joeli were an excellent investment and really helped me expand my editing business. As well as growing my independent designer portfolio, I'm now a technical editor for Knit Now and Essential Knits magazines, and I've edited patterns for all sorts of designers, from those just starting out to some of the established names in the field. Thanks to Joeli, I've found that the knitting industry is a great place to work, and I love what I do!"
Kristina Mcgrath, tech editor
"I knew I wanted to be a tech editor, and am very grateful that Joeli's classes were suggested to me and that I took them. She is so skilled and does a beautiful job of organizing and explaining ALL the things you'll run into, and how to handle it all, and the lessons are perfect. There was so much I didn't know and hadn't thought of. I am a much more skilled and confident tech editor because of my experience with Joeli."
Jessica HiGdon, Tech Editor
"After being interested in tech editing for quite some time I started researching the field and how people go started. Every quality tech editor it seemed took Joeli's course to get started. For some reason I doubted myself and my ability at first. After taking the leap to invest in myself and sign up for the class I have never looked back. I learned all the skills I needed and them some. It was a worthy investment in myself. It's great working with such a large group of talented and supportive tech editors."
it's not just about tech editing though...
What I love about teaching this course is seeing how it changes my students lives and watching them build amazing businesses, create a way to stay home with their kids, leave their day jobs, gain some independence, start believing in themselves, watching them transform. They come into tech editing for one reason and they leave with a whole other reason, a whole new passion.
So yes, this program will teach you how to look at knitting patterns in a new light, how to start taking them apart and understanding the pieces, how to turn that knowledge into a job, and then how to get clients. That's the basic framework and it's quite simple. But somehow along the way it becomes more than that for certain women and that will always be a little bit magical for me.
If you want to join us and go on your own journey, I'd love to have you.
This program is different from any other course you might have purchased before.
Most people buy a course, start it with the best of intentions, and then get distracted and never finish it. I don't want to see that happen to you with anything you purchase from me. So I've set up a system where you only pay for as long as you need to complete the program. Able to get through all the courses in a month? Great, you only pay for one month. Life gets in the way and you need a break? No problem! Cancel your membership and come back when you're ready. Need a bit more time and help? Not a problem, as part of your membership you get access to our private Slack community which includes the ability to direct message me whenever you have questions.
MORE FAQ:
How long am I going to have to stay a member?
You only stay as long as you want! You can cancel at any point (and come back later if you still have modules you want to finish.) The program should take about 3-4 months to work through but you have access as long as you're a paying member.
Can I join as a member and later upgrade to lifetime access?
Yes! And I'll apply the last two membership payments you made against the cost of lifetime access.
I really just want to buy the course outright instead of joining a membership program.
No problem, you can still do that here. And you can still get access to our private Slack community by becoming a Hub HQ member for $10/month.